Why Teach the Wyoming Stewardship Project?
Many things come across a teacher's desk throughout the year, some of them are worthwhile, and some aren't. I feel the Wyoming Stewardship Project is worth teaching because it is all about us, the people of Wyoming.  It teaches the standards through lessons specific to Wyoming, which makes it relevant to our Wyoming kids. Not only that, it's completely done for teachers – everything you need is there, and it's all Wyoming based, including pictures, videos, and articles.  You can tell teachers wrote the lessons because they knew exactly what a teacher would want in a unit of study and made sure to put it in there. And now, to make it even easier to use, there will a PowerPoint/Google slide show to go with each lesson.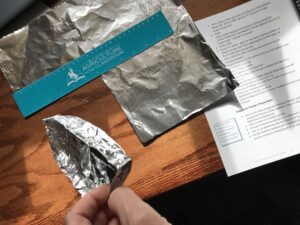 Can you give an example of what students may learn?
There are hands-on, engaging activities in every unit.
An example of a fun lesson is Lesson Six of 5th-grade Outdoor Recreation & Tourism. The students learn about challenges created by invasive species in an ecosystem when they float aluminum foil boats in tubs of water (lakes) where herbs and spices simulate real-life invasive species. Students move their boats between lakes, causing the "invasive species" to spread. Then they have to figure out how to remove all the invasive species without emptying the lake, which is nearly impossible. It drives home the idea that it's better to prevent the spread of an invasive species than try to clean it up, and the students have fun in the process.
Extra materials for the Wyoming Stewardship Project lessons are inexpensive and easy to get. The teachers who wrote the units understand how important that is when teaching. It's just one more feature that makes this curriculum worthwhile and easy to manage.  What more could you want?
– Janet Wragge,
Regional Advocate